-36%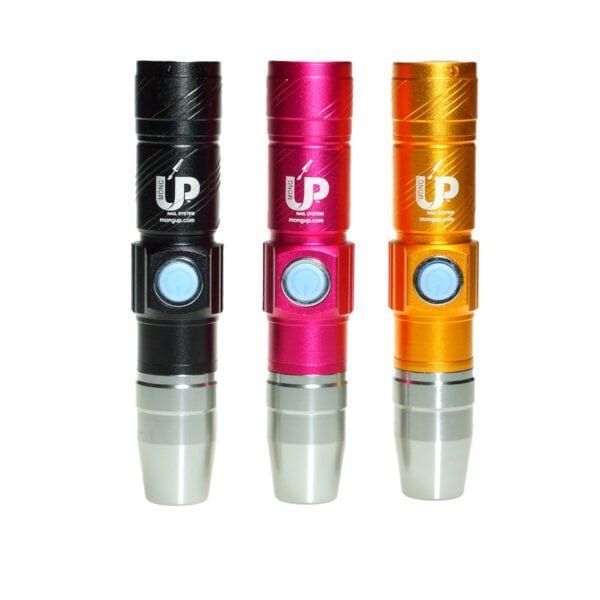 MU Flash Cure LED Bundle – Rechargeable
Bundle Deal: Tri-Flash
Black-Gold-Pink
Flash cure LED light for nails.
Use on gel nails, nail art decoration, nail art
KEY FEATURES
Flash cure within seconds

LED FLASHLIGHT

Up to 10,000 hours of usage

3 WATTS

USB Rechargeable

Maximum charges 15 hours

Built-in Battery: Yes
Charging Type: USB rechargeable
=================================
Color: Gold
Type: LED
Material: Aluminum
Color available: Black/Gold/Pink
=================================
Charge overnight before first-time use
We recommend you position the flashlight 2 inches away from the nail and swing light every 5 seconds to avoid heat spikes for best results.
Do not use it directly to the eye.
When the light is dim, please charge immediately to lengthen the lifetime of the battery
Do not use during charging. This can damage the battery
Description
LED flashlight for nails, specifically designed for flash cure on nails. Ideal for gel nails, nail art embellishments, and nail art designs.
KEY FEATURES
Flash cure within seconds

LED FLASHLIGHT

Up to 10,000 hours of usage

3 WATTS

USB Rechargeable

Maximum charges 15 hours

Built-in Battery: Yes
Charging Type: USB rechargeable
=================================
Color: Gold
Type: LED
Material: Aluminum
Color available: Black/Gold/Pink
=================================
Charge overnight before first-time use
We recommend you position the flashlight 2 inches away from the nail and swing light every 5 seconds to avoid heat spikes for best results.
Do not use it directly to the eye.
When the light is dim, please charge immediately to lengthen the lifetime of the battery
Do not use during charging. This can damage the battery
Only logged in customers who have purchased this product may leave a review.